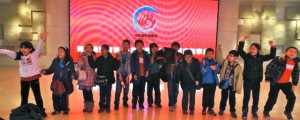 On the 6th February, Grade 4 went to the Beijing Fire Museum. We saw a 4D video of a fire explosion and experienced many types of simulations. In each simulation, we practiced evacuation and emergency procedures.
In a fire, we learned to stay calm, find an exit and crouch down low. Luckily, Jack saved us by calling 119. We also learned that if your clothes catch on fire, you should stop, drop, roll. It is important to know what caused the fire and to know your own address to tell the emergency service people.
In the earthquake simulation, we felt earthquakes of magnitude 1, 2 and 5 on the Richter Scale. We learned how to cover our heads and find a safe place inside the building. We also learned that being in a triangle can be safe so that debris doesn't fall on your body. We practiced evacuating to a clear area away from rubble and falling debris.
Lastly, we went on the subway. We learned how to evacuate from the subway, too. We learned to find the door on the front carriage and crouch down low to escape the smoke.
We had a great day at the Fire Museum. The simulations were really exciting and we have lots of great knowledge about how to act in emergencies.
By Kota & Joshua