Last week, Diana painted this fantastic portrait of a classmate.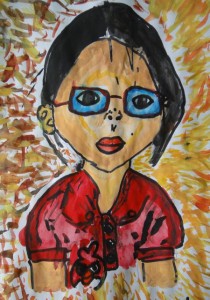 She worked on the painting for 4 days, with some frustration and lots of persistence. She used these strategies to achieve success:
– drawing basic shapes
– researching face proportions
– observing and photographing the person
– adding details and outlines
– asking Miss Davies for advice
– adding shadows and highights
– mixing colors and tones
– using different brushstrokes
Congratulations Diana!
What do you like about this painting?  
Can you recognise a famous artist's style here?