Congratulations to our classmates Sajid and Benedict who won 1st and 2nd places in the Little Star Magazine Short Story Competition this year!
From hundreds of entries, all over China, their stories were selected as the major prize winners.
1st Place – Sajid – for his story "Blaze Saves the World".
2nd Place – Benedict – for his story "Aliens Adventure".
Congratulations also to Chae Yeon in Grade 3 who received an Honorable Mention for her story "A Lucky Year".
BISS writers dominated the 9 years of age category! We are very proud of our talented friends!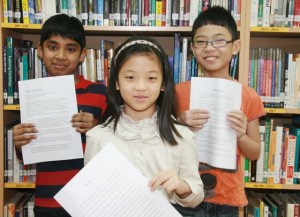 Read the winning stories below:



What is your favorite part of each story?
Which writing strategies do you recognise from our workshops?