Over the last few weeks, Grade 4 has been investigating water. We have discovered that fresh water is a precious resource. We also learned that it is often polluted. Agriculture, sewage, industry and detergents can make water unsafe to drink. Many people around the world do not have clean water. In China, over 100 million people are drinking unsafe water every day. This causes diseases.
Today, special guests from  RISE  Tsinghua University visited to teach us how to keep water safe and make it clean. They have invented a special filter called a bio-sand filter. It uses sand to trap the germs in water. They travel around China, teaching communities how to protect their water and make it cleaner.
After watching their presentation, we went outside to make our own filters!  We were in 4 teams for "The Cleanest Water Competition". We prepared bottles, stones, sand and dirty water. In this order, we added water, large stones, smaller stones and then sand to the bottles. At last, each group's filter was ready!
We took turns to pour dirty water into our filters. Then we looked at the water coming out  and it was very clean! The University student chose the winner by judging which team had the clearest colour. Benedict, Joshua, Jack and Geon Woo's team were the winners!
We had a great lesson with RISE  Tsinghua University students. We learned a lot about water pollution and ways to clean water. We think their work is very important in China.
By:  Geon Woo & Hyun Seo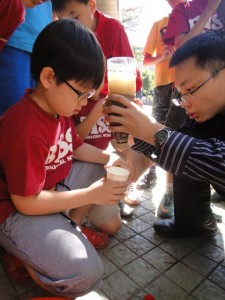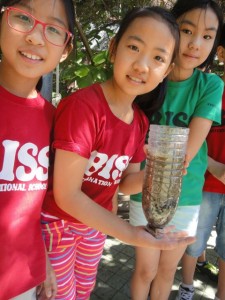 Why is water so precious as a resource?
How can you conserve water in your own life?
How can you conserve other finite resources in your life?