This post appears in EARCOS Journal (Fall 2013 issue).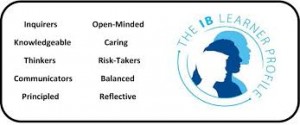 In April, the International Baccalaureate Organisation (IBO) published a comprehensive review of the Learner Profile.
The Learner Profile is a set of 10 attributes, which underpin and align all three programmes (PYP, MYP and DP). It is intended that learners strive for these as they develop into "internationally minded people who, recognizing their common humanity and shared guardianship of the planet, help to create a better and more peaceful world" (IB mission statement).
After almost two years of global data collection, literature reviews and expert think tanks, the attributes remain unchanged. Minor modifications were made to each descriptor in order to emphasise certain attitudes and broaden some definitions. However, the core list was found to have an iconic status, which was both suited to its purpose and inter-culturally appropriate.
Alas, attending to its grammatical inconsistencies was not high on the agenda. Adjectives such as Caring and Principled still exist alongside the nouns Communicators and Thinkers. Were there no grammarians on the executive panel? (In truth, the matter was discussed. It was decided that meaning trumps lexical symmetry. A valid point, but next time, please spare a thought for teachers who look at those mismatched parts of speech every day!)
Many fascinating debates arose from this review process. To me, the discussion surrounding risk-taking and resilience was most important. Based on surveys and field notes, the attribute that was most frequently identified as needing review was "risk-taker". It was seen by many to imply poor decision-making and inappropriate use of caution. Indeed, risk-taking often has negative connotations when we explore drug use, sexual health and peer pressure with our teenagers. Other members of the IB community were concerned that risk-taking implies an individualistic approach to life, ignoring one's role in strengthening social harmony and community. As a result, the IBO now gives schools the option to use the term "Courageous" in place of "Risk-takers". This broader term, (and its new descriptor), focuses on intellectual innovation, a determined approach to uncertainty and resilience in the face of challenges.
I believe the new focus on resilience is an important one. Many respondents raised resilience as a value that could be added to the Learner Profile. It is certainly a buzz-word in modern psychology. The ability to bounce back from challenges is now recognised as one of the most important factors for mental wellbeing and lifelong happiness. Psychologists suggest that it is people who learn to accept difficulties, set goals and act constructively who cope best in the face of life's adversities. The ability to see the big picture, focus energy on matters within one's control, think about mistakes affirmatively, and accept self and others are all powerful tools for wellbeing. Programmes such as "Bounce Back!" have been implemented widely in schools to help students develop such habits of mind. As teachers, providing opportunities for our students to fail, persevere and remain determined are essential elements of our class culture.
Will our students become courageous thinkers, who face challenges with determined, resilient mindsets? I certainly hope so. I'm thrilled to see risk-taking examined critically and resilience finding its place in the IB Learner Profile. Surely courageous young people can create a better world for all.