The ten attributes of the Learner Profile underpin all three IB programmes (PYP, MYP and DP). In developing these traits, students build both the motivation and capacity to make the world a better place. As IB teachers, we believe whole-heartedly in this philosophy.
But what does it look like at the coalface? How do we make the Learner Profile an inextricable part of our school culture? How do we ensure that our pedagogy inspires students to strive for these attributes every day?
Recently, my colleagues and I worked on a set of guidelines for our school. Below you can read our attempt to communicate how we implement the Learner Profile in our context. The goal was to empower the community to embed the Learner Profile in our daily practice, in simple, authentic ways.
A New School Year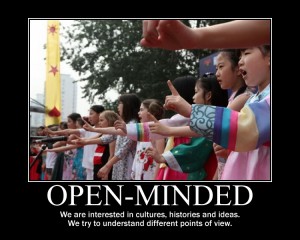 In August, each class of learners will be given the opportunity to review their understanding of the Learner Profile. According to need, they will be invited to unpack the attributes in their own language and through a medium of their choice.
Examples:
taking photographs and overlaying text with own words
choosing a Learner Profile Bear and explaining why they identify with it
Through Inquiries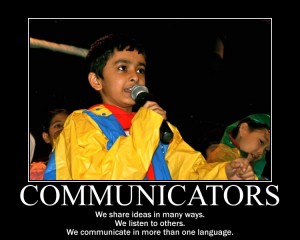 Teachers will make explicit links to the Learner Profile throughout Units of Inquiry. As teachers design inquiries, there will be countless opportunities for students to develop and demonstrate the key attributes of the unit, through their questions, comments, research and actions. In order to highlight these "moments", teachers will keep observational notes and use the language of the Learner Profile to help students recognize their own development as a learner.  (Other attributes will certainly emerge and should be recognized as appropriate within an inquiry.)
Also, during the reflection phase of each inquiry, students should be encouraged to reflect on their own demonstration of relevant Learner Profile attributes, in order to strengthen their metacognition and identity.
PYP Coordinator
The PYP Coordinator will write a column in the school newsletter, explaining one attribute per month, and celebrating how he/she has seen children demonstrating it around the school.
Assemblies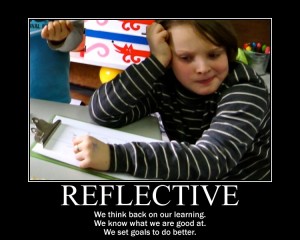 Assembly is a wonderful forum for making the Learner Profile visible in our school. Our intention is for the community to see authentic links between the Learner Profile and the inquiries taking place in our classrooms.
The Learner Profile will be celebrated at assembly each month. One or two students from each class will be recognized for developing and/or demonstrating a Learner Profile attribute which is the focus of their current Unit of Inquiry. (Each class may be focusing on a different attribute, as relevant to their unit). This will take the form of a movie, consisting of photographs/videos and one-sentence explanations of how each student is demonstrating the attribute.
In addition, the class hosting assembly is encouraged to prepare one creative item to communicate how they are understanding/engaging with/demonstrating an attribute in their current Unit of Inquiry.
Parent Community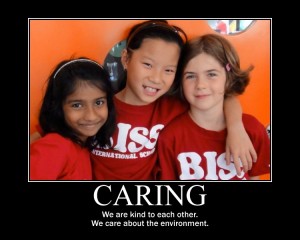 Parents will be provided with suggestions and strategies for bringing the Learner Profile to life at home. This will help to strengthen home-school connections, empower parents to become partners, and assist children to see themselves as well-rounded learners in any context.
This information will be communicated to parents through: school newsletter articles, Learner Profile in the Home brochure (to be included in the marketing and admissions pack) and a page on the school website explaining how the Learner Profile aligns the PYP, MYP and DP.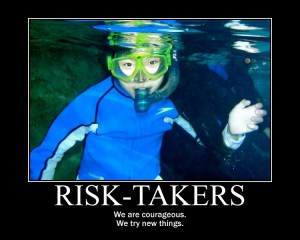 What is your school doing differently and/or better?  

Please share your suggestions and feedback!